Modified Hydrochloric Acid
Get a less-corrosive, more cost-effective HCl alternative.
What Is Hydrochloric Acid?
The chemical formula for hydrochloric acid, also called hydrogen chloride, is HCl. Its molecular weight is 36.47 g/mol. It's a colorless, aqueous solution or gas with a sharp, irritating odor.
Hydrochloric Acid Hazards
Hydrochloric acid (and its fumes) have the potential to corrode human tissue and damage the respiratory system, intestine, skin, mucous membranes, and eyes irrevocably. Long-term exposure at work reportedly causes chronic bronchitis, dermatitis, and gastritis in employees. Animal tests found it had moderate to high acute toxicity from inhalation, according to the EPA. Why put your employees and your operations at risk when there's an effective, safer alternative?
Why Berryman Modified Acid?
Berryman produces intensely concentrated modified acid formulas that perform comparably to hydrochloric acid, while being far safer for humans and the environment. They have minimal fumes, are noncorrosive to the skin and tissue, and biodegrade more quickly. In addition, you can dilute them on a 1:1 to 1:100 ratio depending on your application, which reduces the burdens of transportation and storage.
HCR-6000™ is a powerful replacement that mitigates hydrochloric acid hazards. It provides unparalleled corrosion protection at temperatures at which hydrochloric acids fail to protect your assets. With high temperature thermal stability, HCR-6000 offers a proven, cost-saving solution for workovers, stimulations and other oilfield operations. Our varied HCR-6000 series can replace your current acid system at temperatures up to 430° F as a safer solution.
HCR-6000™ Series – Our universal blend is ideal for scale treatments, injection wells, spearheads and other high-heat applications.
HCR-6000N™ Offshore – This formula has North Sea classification and offers unparalleled safety with unrivaled performance.
HCR-6000 FRAC™ – This blend has solubilizing abilities comparable to 20 percent HCl acid for all your fracking or heavy spearhead applications.
HCR-6000 FRAC+™ – This formula has solubilizing abilities comparable to 25 percent HCl acid, while being far less toxic.
Operational Benefits
Available in strengths equivalent to up to 25 percent hydrochloric acid
Corrosion protection up to 430° F (220° C)
Minimal exothermic reaction
High thermal stability at greater than 428° F
High salinity tolerance
Minimal sludging and precipitation
No phase separation
Superior wormholing performance
HT – SAGD and CSS scale treatments
High iron compatibility
HSE Benefits
Noncorrosive to dermal tissue
Nonvolatile
Low vapor pressure (less fumes)
Readily biodegradable (OECD-306/organic compound)
Nonmutagenic
HCR-7000™ is an efficient, low-fuming modified acid with similar solubilizing abilities to 15 percent hydrochloric acid (concentrate). It's a top-performing alternative to all HCl acid blends, and you can use it with wireline and perforating tools without compromising their integrity. This allows you to pump acid with perforating guns and cut more than an hour and save significant water per stage.
Major wireline vendors have approved the use of HCR-7000. Operators have used it in acid spearhead applications, workovers,  stimulations and fracs at high temperatures where an aggressive removal of skin damage, scale or mineral deposits is needed. It's effective for well displacement treatments or remedial applications due to its long-lasting corrosion protection (up to seven days at mid-range temperatures).
HCR-7000 has a more aggressive reaction rate than any modified acid on the market. It meets your acid requirements while eliminating corrosion issues, HSE risks and transportation difficulties in environments up to 375° F.
Operational Benefits
Up to seven-day corrosion protection
Aggressive reaction rates (adjustable)
Compatible with typical elastomers used in oil and gas
Class 1 acid package
High spent pH less than 4.0
Minimal Ca precipitation issues
Reduction of company liability throughout supply chain, operational and downhole processes
Concentrations adjustable on the fly
Nonregulated for ground transportation in the US
High thermal stability up to 190° C
HSE Benefits
Noncorrosive to dermal tissue
Nonvolatile
Minimal fuming
Readily biodegradable (OECD 301F), less than 34 percent in 10 days
Nonmutagenic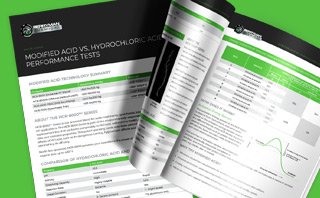 Discover the Modified Acid Difference
View the results from third-party lab tests comparing modified acid to hydrochloric acid.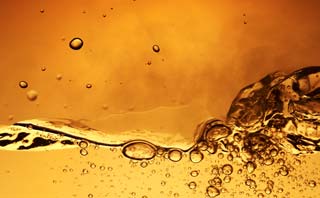 Save Time With Modified Acid
Our alternative to HCl is noncorrosive, saving hours per stage.